PEARL FARM BEACH RESORT
PACKAGE EXCLUSIVE OFFERS
This year, prepare your dream getaways to this paradise island. Browse through our available promo packages and get the adventure of a lifetime at this Davao beach resort for as low as PHP 15,900 a night. Promos are inclusive of full board meals and other complimentary resort services. These are limited offers, so reserve as early as now!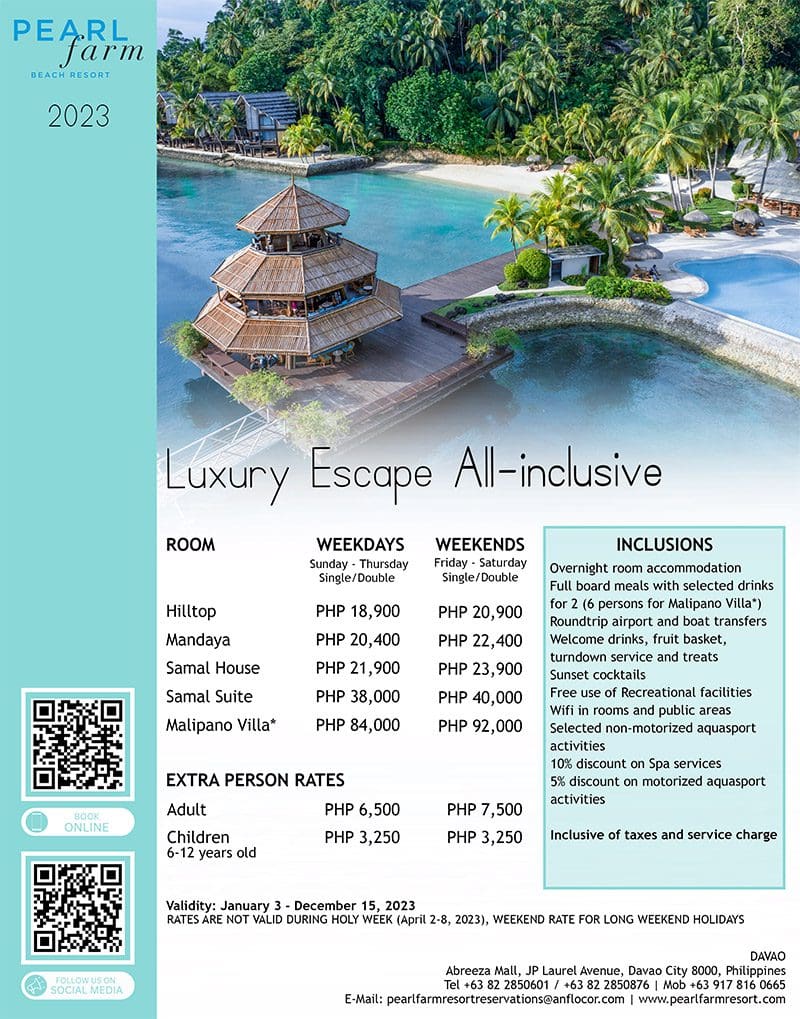 LUXURY ESCAPE ALL-INCLUSIVE 2023
Take a break and indulge in an all-inclusive luxury escape. This 2023, enjoy overnight accommodations, full board meals, roundtrip airport and boat transfers, welcome drinks, and more. With so many included amenities, you're sure to have a relaxing and enjoyable stay. So start planning your getaway today!
INCLUSIONS
✓ Overnight room accommodation
✓ Full board meals with selected drinks for 2 (6 persons for Malipano Villa)
✓ Roundtrip airport and boat transfers
✓ Welcome drinks, fruit basket, turndown service and treats
✓ Sunset cocktails
✓ Free use of Recreational facilities
✓ Wifi in rooms and public areas
✓ Selected non-motorized aquasport activities
✓ 10% discount on Spa services
✓ 5% discount on motorized aquasport activities
✓ Inclusive of taxes and service charge
Validity from January 3 – December 15, 2023
(Rates are not valid during Holy Week (April 2-8, 2023), Weekend Rate for Long Weekend Holidays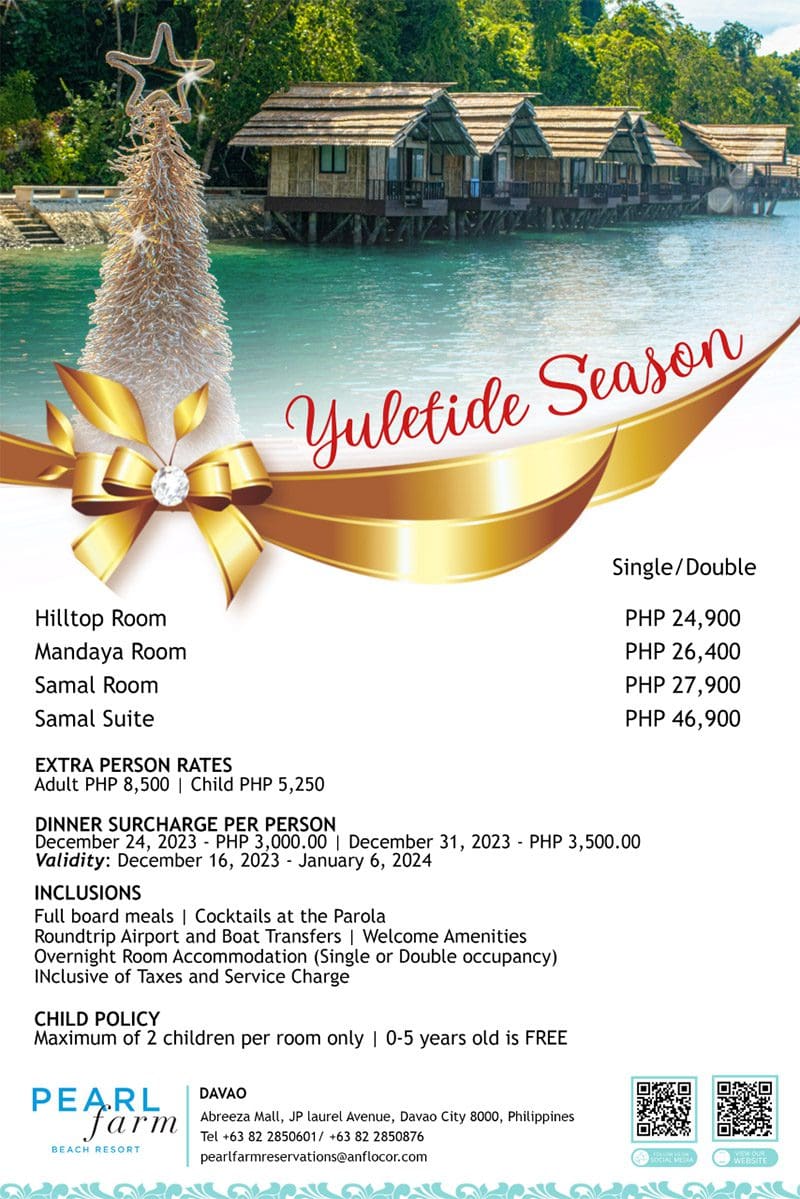 YULETIDE SEASON
Satisfy your eyes with the postcard-worthy beauty of Samal Island, and satiate your palates with sumptuous meals that reflect Mindanao's colorful culture.
EXTRA PERSON RATES
Adult PHP 8,500 | Child PHP 5,250
DINNER SURCHARGE PER PERSON
December 24, 2023 – PHP 3,000.00 | December 31, 2023 – PHP 3,500.00
INCLUSIONS
✓ Full board meals | Cocktails at the Parola
✓ Roundtrip Airport and Boat Transfers | Welcome Amenities
✓ Overnight Room Accommodation (Single or Double Occupancy)
✓ Inclusive of Taxes and Service Charge
CHILD POLICY
Maximum of 2 children per room only | 0-5 years old is FREE
Validity: December 16, 2023 – January 6, 2024.
At Pearl Farm Beach Resort, every moment will someday make you look back and want to experience it all over again.